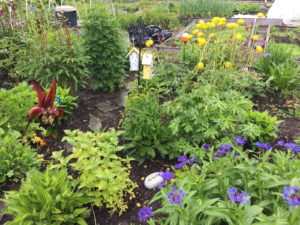 News and Events
Exciting to see so many gardens up and running.  A quick reminder that if you haven't yet worked your plot the deadline for starting is June 15.  After that date your plot is forfeit and we offer it to one of the many hopeful gardeners on the wait list.  Please communicate with a board member if you are experiencing difficulty and need assistance or advice getting started.  
Rhubarb is ready to harvest.  There are many gardener approved recipes here on the website. If you don't want your rhubarb, check out the list Share Your Harvest on the Resources page.  Or take it to Coppa or Gonzo for a credit. (Check first to make sure they still want more.)
OR – begin perfecting your favorite recipe for the Rhubarb Festival coming up June 15.
And don't forget to check the service hour page. 
Here's a quick link to recommended varieties: 
http://cespubs.uaf.edu/index.php/download_file/1158/
This year we are handling lumber differently. Members will be able to purchase lumber locally whenever they choose.  You make your own arrangements. The contact person is Doug Roundtree; his number is 321-5052. 
Service hours: Check the Service Hour page regularly and the white board at the garden.  Service hour opportunities are also frequently posted on the Facebook page.
And here are some dates to mark on your calendar:
Rhubarb Festival – June 15
Harvest Fair – August 24